Earlier this year, Ghana launched the world's first female-focused digital financial services (DFS) policy. As opposed to Nigeria, the country has experienced immense growth in the financial services sector over the last five years driven by mobile money services.
One of the goals of the country's new digital financial services (DFS) Policy is to close the gender gap by ensuring that at least 85 percent of women have financial accounts by 2023. Data shows that there are more men who are financially included than women.
Nigerian women are more likely than Nigerian men to be financially excluded with less than 1% of women having an insurance product.
In order to address this challenge, the Central Bank of Nigeria recently launched the framework for advancing women's financial inclusion. Nigeria aims to achieve an inclusive financial sector that has closed the gender gap by 2024.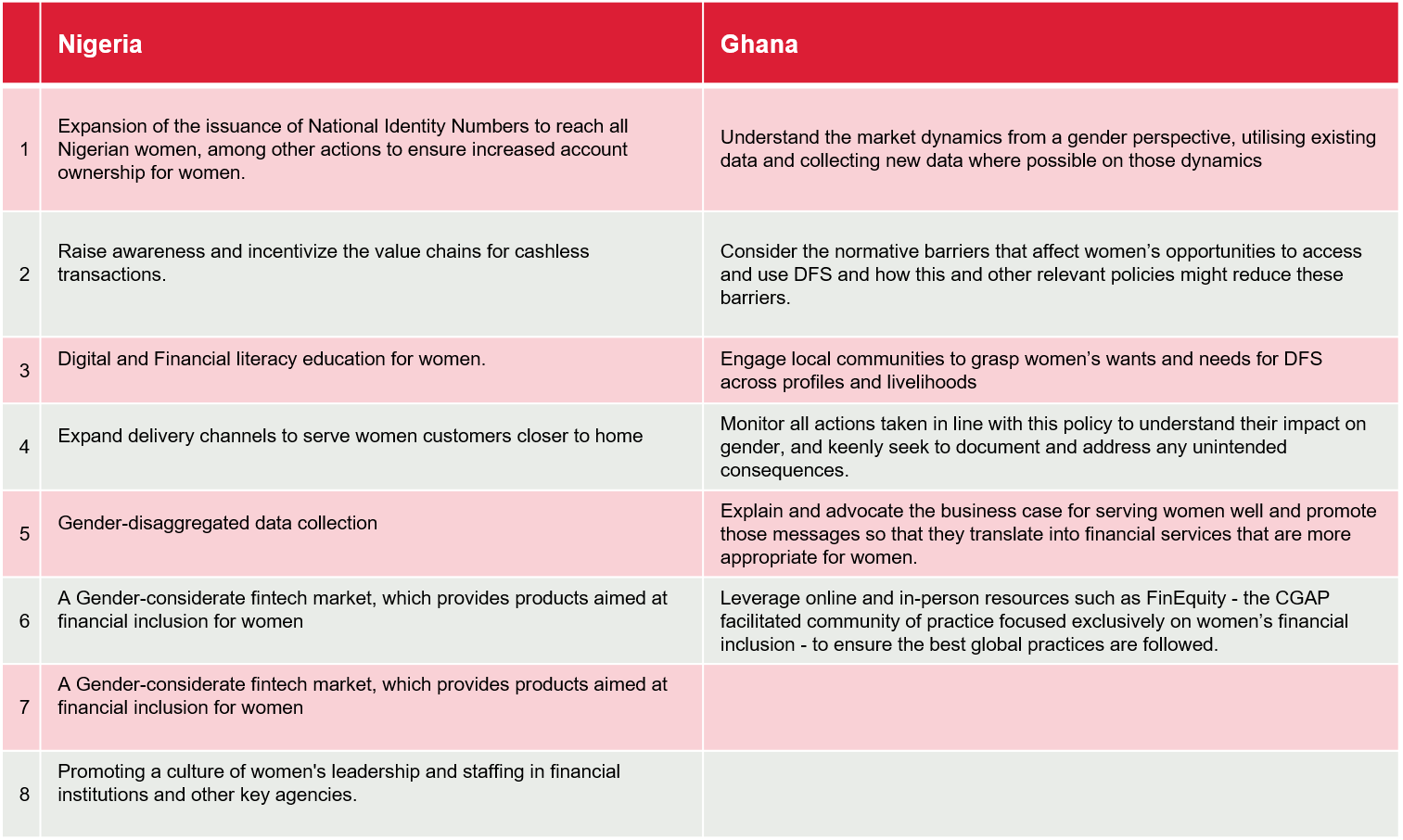 Ghana:
1.     Understand the market dynamics from a gender perspective, utilising existing data and collecting new data where possible on those dynamics so that this data can be used proactively to reduce the gap between financial inclusion levels for men and women.
2.     Consider the normative barriers that affect women's opportunities to access and use DFS and how this and other relevant policies might exacerbate or reduce these barriers.
3.     Engage local communities to grasp women's wants and needs for DFS across profiles and livelihoods (e.g. rural, urban, agriculture, commence, informal sector, etc).
4.     Monitor all actions taken in line with this policy to understand their impact on gender, and keenly seek to document and address any unintended consequences.
5.     Explain and advocate the business case for serving women well and promote those messages so that they translate into financial services that are more appropriate for women.
6.     Leverage online and in-person resources such as FinEquity - the CGAP facilitated community of practice focused exclusively on women's financial inclusion - to ensure the best global practices are followed.
Nigeria:
1. Expansion of the issuance of National Identity Numbers to reach all Nigerian women, among other actions to ensure increased account ownership for women.
2. Raise awareness and incentivize the value chains for cashless transactions.
3. Digital and Financial literacy education for women.
4. Expand delivery channels to serve women customers closer to home
5. Gender-considerate data collection
6. A Gender-considerate fintech market, which provides products aimed at financial inclusion for women.
7. Develop financially sustainable products and delivery systems that respond to low income women's needs.
8. Promoting a culture of women's leadership and staffing in financial institutions and other key agencies.
Studying both approaches, similarities exist in areas like data collection and product suitability aimed at financial inclusion for women.
Comments