In March 2018, the National Financial Inclusion Special Intervention Working Group  recommended the development of a comprehensive framework that provides a guide and blueprint for women's financial inclusion.
This Framework is the outcome of the gender subcommittee's work and follow-up work by the Central Bank of Nigeria (CBN) and Enhancing Financial Innovation and Access (EFInA).
The Framework carves out the barriers of particular importance to women, laying out eight strategic imperatives and related recommendations with the greatest potential for addressing these barriers.
Our opinion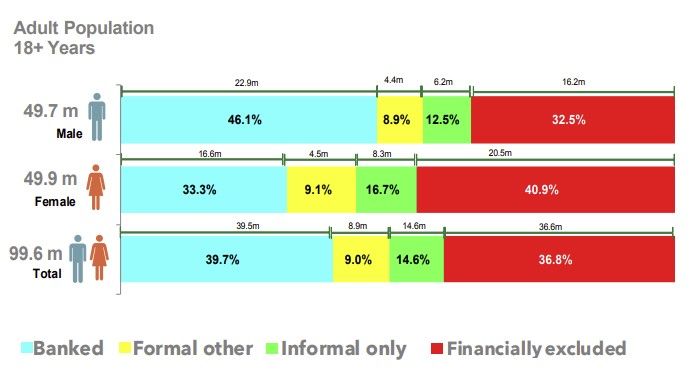 A number of African countries have commenced looking into inclusive development strategies and frameworks that can deliver universal financial and digital inclusion in Africa. Ghana in September 2020 launched  a Digital Finance Policy focused on women.  A simple but impactful lever of this new policy, is that all financial services data must now be disaggregated into male and female.
It has become imperative for country governments to develop a women-specific strategy that address women as a critically important and separate customer group, rather than as a subset of a broader group, for example "vulnerable"
In Nigeria, it is important to note that only 2.4% of men and 1.0% of women have one or more insurance product.
Download framework here
Nigeria In Focus:
Population - 206.6 million (Compared to South Africa's 59.6 million)
GDP: $504.57 billion (Compared to South Africa's $369.85 billion)
GDP Per Capita: $2,465 (Compared to South Africa's $6,193)
Comments